Garry's Pictures
Jackpot Barrel Racing 2004

Second Annual Benefit!
Sponsored by Mulvane Saddle Club

Again this year, the event had to be held on the rain date, June 12th, 2004. But a fun time was still had by all! Mulvane Coop donated 500 lbs of grain to be given away and we raffled off 2 half hogs and 1 half of beef from Stroot Locker.
$1,000 Money was added to the prize fund for the riders!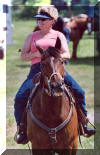 Winners of the 2 half hogs were Shelly Harris & Edwina Whitmer .
Winner of the half Beef was Jason Riedinger.
Drawing for the meat donated by Stroot Lockers.

The Trucks on Display!
The Fire Department work crew.
More of the Work Staff!

Some of the Winners!
Nicki Zimmerman takes 1st place in 1D, $862.

2D Winners, Ann Allison 1st, Carol Tracy 2nd, Brett Farris 3rd.

4D Winners, Tracy Lee 1st, Darla McKay 2nd, Diana Hodson 3rd.

Youth, Amber Howard

Pee Wee, Jobi Tussy
Hard Luck Awards

Some of the Riders!


M.E.S. would like to say THANKS to the sponsors!
Raupe Sales Company

Haysville, KS

Wayman Oil Company

Mulvane, KS

Prairie State Bank, Mulvane

Carman Davis

Kevin Lewis

Mulvane Pharmacy

Graphic Impressions

Valerie Megonigle

Pat Clawson Carpet Company

Derby, KS

Janey's Barber Shop

Derby, KS

Mulvane, KS

Mitchell Veterinary Supply

Derby, KS

R-Con Corporation

Wichita, KS

Pizza Johns

Derby, KS

Rice Construction

Mulvane, KS

Stroot Lockers

Mulvane, KS

Double D Enterprises

Dennis Dick Insulation

Derby, KS

Mulvane Chiropractic Clinic

Dr. David C. Martinez

Mulvane, KS
M.E.S. would like to give a special THANKS Mulvane Saddle Club and to George Cash.
The organizer of the event, George Cash.


M.E.S. Photographer Garry Brownlee.
Garry Brownlee is the Department Photographer and is a member of the Resource Team. Many of the pictures on this web site of current events were taken by him. Pictures used by permission only. See more of his work here on flickr.

Misc. Pictures Page 7

Old Settlers 2008
April 2004 School Bus MCI Drill