What is ISO Hauled Water Classification?
The Insurance Service Organization (ISO) ratings are numerically categorized from one through ten. A rating of Class "1" is the highest rating a fire department can receive, 10 being the worst or unprotected. The following information lists the requirements that have been met by the M.E.S., which has enabled them to qualify for a rural hauled water credit.
Mulvane's rural classification for Fire District #12 had been a ISO Class 9 until 2004. In 2004 we were able to reduce this to a Class 8B. The 8B rating is based on the ability to supply 200 gallons per minute for 20 minutes in non-hydrated areas. In June 2008 Mulvane Fire Rescue performed the Rural Hauled Water drill for the ISO, lowering the rating class even further. Mulvane Fire Department was able to demonstrate the ability to provide 500 gallons per minute for 2 hours to any portion of Fire District #12. Final results of this drill were an ISO Class 5, effective December 1st, 2008. Only about a dozen (12) departments in Kansas have done this exercise for the ISO, there are 1,177 rated communities in Kansas!
Major Elements:
| | |
| --- | --- |
| | A review of the communications and dispatch facilities, both at Mulvane 911 & Sumner County 911. |
| | A review of the rural water supply sources, RWD #3 distribution system and available water tenders. |
| | A review of the fire department and their ability to haul water in un-hydranted areas. |
| | Awards a community wide grade that is combined from the three above items. |
To receive an ISO rating the following minimum requirements must apply:
| | |
| --- | --- |
| | Must be an established and organized fire department. |
| | Legal responsibility for fire suppression in a defined area within specific boundaries. |
| | At least four firefighters must be present at all scenes. |
| | Two hours of training must be provided to members bi-monthly. |
| | Each firefighter must have a personal pager to be made aware of fire calls. |
| | Fire vehicles and equipment must meet standard codes specified by the NFPA. |
| | Equipment and vehicles must be centralized and kept indoors. |
Essential elements a fire department must have to receive hauled water rating:
| | |
| --- | --- |
| | Fire Department must have pumper capacity to suppress a fire in any building in the community. |
| | Fire Department must have a 24 hour central dispatch for contacting all firefighters on duty via pagers. |
| | Must have fully equipped reserve apparatus. |
| | Annual tests must be conducted on pumper trucks, hoses, and hydrants. |
| | A minimum number of firefighters must be active in the department and respond to alarms. |
| | Firefighter training must greatly exceed minimum standards. |
| | The fire department must be able to receive assistance from neighboring departments thru mutual aid. |
| | The department must have a definitive, reliable, water supply with adequate water tenders. |
| | Must train on rural water supplies utilizing Mutual Aid departments. |
| | Review of actual fires which hauled water was utilized. |
| | Must be able to provide a minimum of 250 gpm for 2 hours to all corners of the Fire District. |
Special "Thanks" to all the Volunteers who made this happen!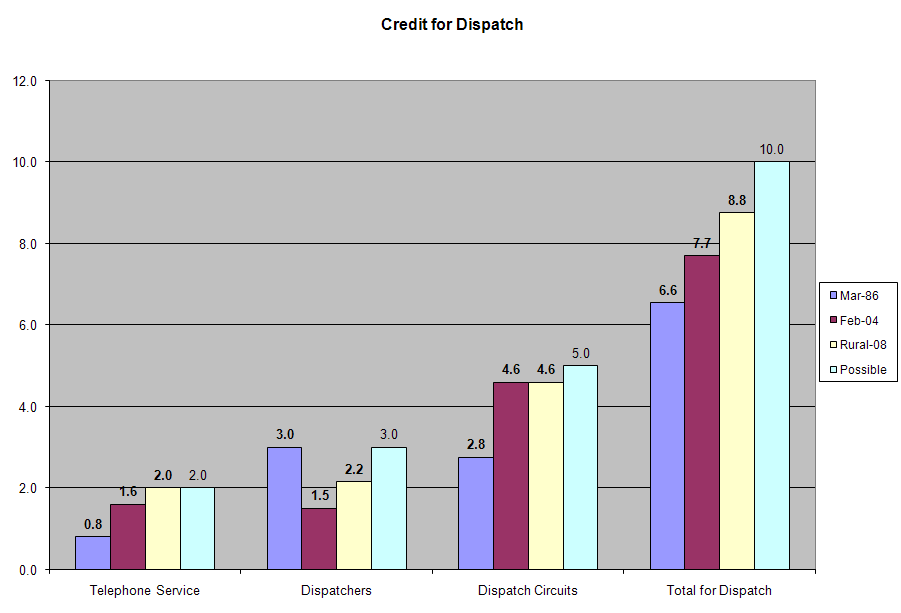 Dispatch Credits improved from the City evaluation in 2004.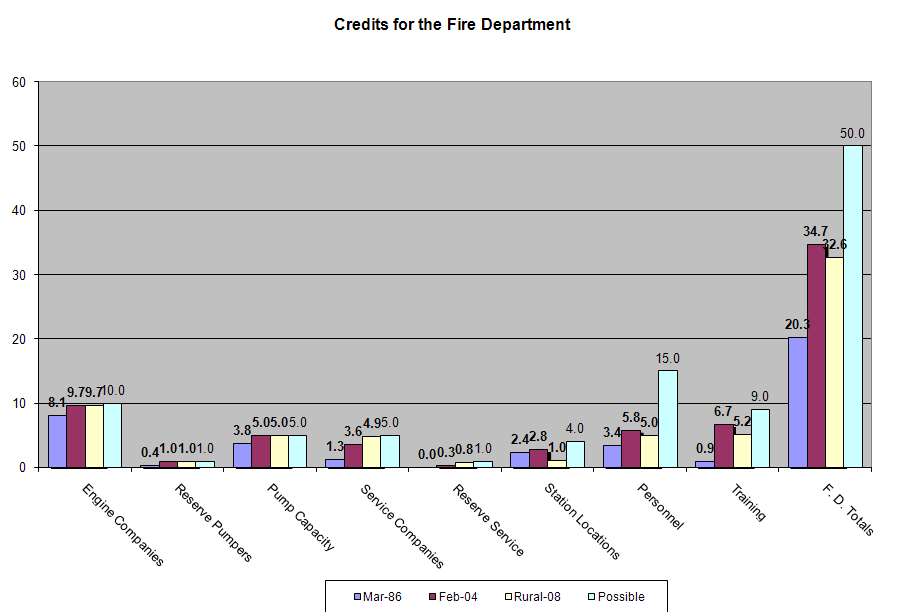 We improved our Service & Reserve Service company points slightly.

We dropped points on the rural evaluation for location of the station, due to the larger rural geographical area we serve.

We dropped slightly on personnel? Not sure why.

We dropped some on training points, had to many inactive members on the roster!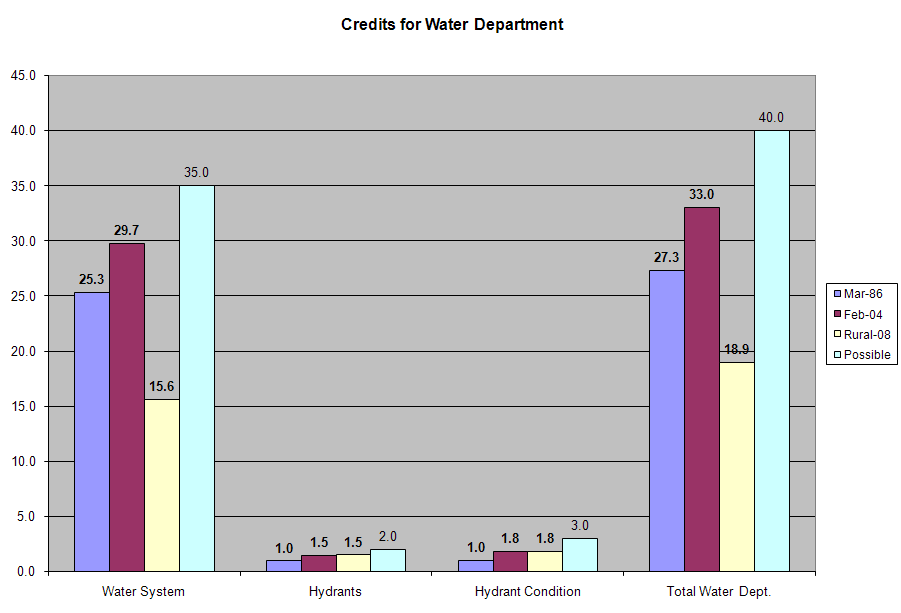 This is where the hauled water shuttle comes into play.

In order to maximize the Hauled Water Credit in lieu of Hydrants, we would have needed to shuttle about 1,250 gallon per minute to anywhere in the district.

We were able to maintain 500 gallons per minute in un-hydranted area's.

This is a major victory for the taxpayers and our department!

The first timed evolution was to set up the fire hydrant for re-supply. This included driving 200' to the hydrant, laying out the supply hose, attaching the hydrant valve and turning on the hydrant. Time was stopped when water started flowing through the hose. Only the driver & passenger were allowed on this exercise. Our time on this was 41 seconds.
The second timed evolution was to have all the tenders pull up to the dump tank and unload their water. Time was started 200' before the dump tank and stopped 200' away from the dump tank. Trucks had to back up to the tank & off load water, side dumps were not allowed. Mutual Aid companies were required to perform these tests as well. We were only limited by the number of firefighters in this exercise that we could substantiate on a normal structure fire, which in our case was 14. Our 4,000 gallon dump tank was placed in position before the drill began.
T-408 T-406 T-406 T-412 T-46 T-46 T-9022 T-9022

MFD Tender 406 dump time 1,600 gallons water was 2:21

MFD Tender 408 dump time for 3,000 gallons water was 2:29

MFD Tender 412 dump time for 2,000 gallons water was 1:47

CCFD #4 Tender 46 dump time for 2,500 gallons water was 2:29

SUFD #9 Tender 9022 dump time for 4,000 gallons water was 3:06

The ISO would like to see 1,000 gallons per minute plus travel time.
The third timed evolution was to have all the tenders resupply at the fire hydrant. Time was again started 200' prior to the hydrant and stopped after the truck drove away 200'. The driver, passenger & a water supply officer was all that was allowed to help with this drill.
T-406 T-406 T-412 T-408 T-46 T-9022

MFD Tender 406 fill time was 2:05

MFD Tender 408 fill time was 2:44

MFD Tender 412 fill time was 2:15

CCFD #4 Tender 46 fill time was 2:46

SUFD #9 Tender 9022 fill time was 3:06

The ISO would like to see 1,000 gallons per minute plus travel time.
Mutual Aid tenders from Udall (CCFD #4) and Belle Plaine (SUFD #9) assisted us in these drills. Times from SCFD #1 were already in the ISO database. Derby Fire Department provided an Engine Company on standby in case of an alarm since our resources were completely used up during the drills.
The fourth timed event was a modified NFPA 1410 drill. Engine #402 and Tender #408 had to come in from 200', set up the dump tank, advance a 2.5" hose line and have water flowing at draft from the dump tank. This had to be done within 5 minutes. We were able to accomplish this in a record time of 2 minutes, 19 seconds. We were allowed to utilize 14 firefighters on this exercise.

ISO rating for Kansas in 2008

1,177 Community ratings

Mulvane's Rural Class 5 is in the top 19% of Kansas ratings

Mulvane's City Class 3 is in the top 4% of Kansas ratings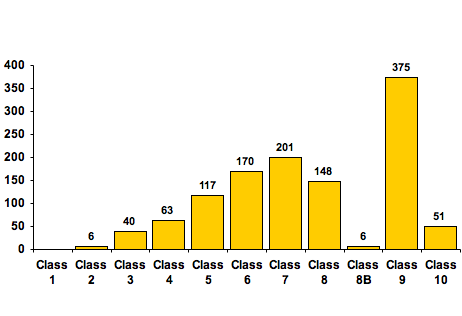 ISO rating for the United States in 2008
55,397 Community ratings

Mulvane's Rural Class 5 is in the top 40% of all US ratings

Mulvane's City Class 3 is in the top 4% of all US ratings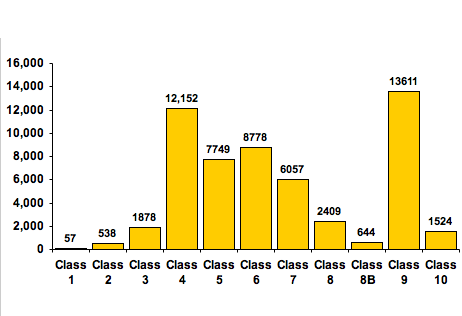 *Photo's by Aaron Mattson