Garry's Pictures
Old Settlers 2003
Friday night is Pizza and truck washing night.
Firefighters Fred Heersche, Joe McDaniel & Jim McDaniel shown here cleaning the trucks!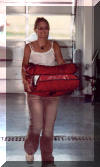 We have our Pizza cooked and delivered by Firefighter Amy, of Amy's Pizza Place.
We always start off Old Settlers morning with some good Firehouse Breakfast.

Firefighters Jim & Duane McDaniel watch patiently as Lt. Joe McDaniel, Capt. Lowell Ester, & EMT Jed Rea prepare the feast. Firefighter Fred Heersche (far right) appears to be reading directions on the pancake mix, maybe next year he can help cook too!

Firefighter Mike Fells is setting up a hydrant to cool down the runners on the 4K run.
Setting up to watch the parade. Firefighters Andrea Myers, Reserve Justin Pietro, Firefighter Dave Arthur, Lt. Bobby Kimble, & Capt. Lowell Ester.

Some of the local spectators checking out the firefighters at the parade!
Be sure to check out the pictures from last years parade!


M.E.S. Photographer Garry Brownlee.
Garry Brownlee is the Department Photographer and is a member of the Resource Team. Many of the pictures on this web site of current events were taken by him. Pictures used by permission only. See more of his work here on flickr.

Misc. Pictures Page 7

Old Settlers 2008
April 2004 School Bus MCI Drill