Garry's Pictures
April 2003 City Disaster Drill

What would interrupt a normally quiet Saturday Morning in Mulvane? How about a city wide disaster drill involving the derailment of a train in the downtown district? Injuring about 30 Cowley County Community College students, Mulvane High School students, and Mulvane citizens!
Command was established at First & Bridge in the Coop Fuel Depot parking lot for this exercise.
Lt. Bobby Kimble assumes Fire Operations and Police Sergeant Matt Schmidt assumes Police Operations. Evaluator Jimmy Reed watches the command post. City Administrator Kent Hixson & Sumner County Emergency Management Coordinator Jeff Welshans assisting at the Command Post.
Sergeant Don Evans blocks traffic at First & Main while EMS Operations Officer paramedic Chad Maugans establishes Triage & Treatment areas. Evaluator Jimmy Reed observes. EMT John Ashlock (talking with MICT Maugans) prepares to setup as EMS Transportation Officer.
Firefighter/EMT Aaron Mattson triage patients on Main Street as Lt. Ester directs the walking wounded to the staging area. Evaluator Alan Alquest observes. Firefighter Brian Diller working in full protective gear triages a patient in the "HOT" zone.
EMS Triage Officer Jed Rea talks with EMS Personnel and C.C.C.C. EMT students as the victims start to arrive in the Traige Center. EMT students ?? and Samie Byers take down information from a victim.
Misc. pictures of the Triage and Treatment area. Over 110 personnel participated in this drill as either patients, evaluators, or responders. Every city department played a role in this drill.
Firefighters await orders in the staging area. Lt. Lowell Ester gets updates from evaluators Alan Alquest and Rick Shellenbarger.
Back at the station after the drill, workers set up a decontamination station and a bio-hazard bed on a stretcher. This equipment belongs to Sumner County Emergency Management and is readily available for use anywhere in the county.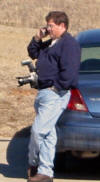 M.E.S. Photographer Garry Brownlee
Garry Brownlee is the Department Photographer and is a member of the Resource Team. Many of the pictures on this web site of current events were taken by him. Pictures used by permission only. See more of his work here on flickr.

Misc. Pictures Page 7

Old Settlers 2008
April 2004 School Bus MCI Drill