Emergency Medical Services


Mulvane EMS fleet, August 2013.
Link to EMS Charts Reporting.
Listen to a 911 Medical Call page
EMS Captain Pete Swart

EMS Training Lieutenant

2018 Changes to EMS
In Spring of 2018 longtime Mulvane EMS Captain Judi Patterson retired. Public Safety Director Gordon Fell appointed Paramedic Peter Swart as the new Captain. In December 2018 Paramedic Tony Lamb was appointed as the EMS Training Lieutenant, replacing outgoing Lieutenant Shawn Lamm.
Retired EMS Captain Patterson
2013 Changes to EMS
In 2013 Mulvane EMS changed from a part-time paid staff to a full-time paid Ambulance Service.
January 2013 Shawn Lamm was hired a EMS Lieutenant and assigned as Training Officer.
8 full time Paramedics were hired in April 2013 to start staffing a truck at Station #1. February 2014 8 more full time Paramedics were hired to start staffing a truck at Station #2.
Mulvane EMS welcomes 8 new Paramedics onto it's full-time staff, April 2013.

(L-R) Lt. Shawn Lamm, Brian Sleffel, Luke Rivera, Kerry Hull, Cody VanDeest, Traci Rosendale, Heron Juarez, Kevin Stoll, Rocky Bumgarner (PartTime), Lt. Chad Maugans (PartTime) and Capt. Judi Patterson.
(Not Pictured) Veronica Tripp (AEMT) & Gabe Ponce.
Mulvane EMS welcomes 8 new Paramedics onto it's full-time staff, February 2014.
Angela Gatschet, Jennifer Love, Amber Blankenship, Mike Sanchez, Francine Harp, Gary Gayer, Ashley Zorn & Kay Humprey.
And Dustyn Morgan & Jesse Fuller.
John Ashlock
MICT Terri Griffin working a MVA on the Turnpike, A-451
EMT Jed Rea and MICT Keith Niemann at a working structure fire June 2003.

A-351 works a semi-truck wreck on the Kansas Turnpike in Feb. 2003.

A-351 on a Medical Emergency, EMT Kim Landers & John Ashlock.
MICT Chris Shaft & EMT Kim Landers provide rehab at a working house fire, 2008.
The E.M.S. division provides two (2) Type 1 (A.L.S.) ambulance service around the clock for the citizens of Mulvane and portions of Sumner County. There are four state certified E.M.I.C.T. (Paramedic) scheduled on duty 24 hours a day, seven days a week.
Mulvane E.M.S. division is lead by Capt. Judi Patterson & Lt. Shawn Lamm. There are 20 EMICT's on staff and 8 EMT's. They are assisted by volunteers from Mulvane Fire Rescue. M.E.M.S. has two Kansas certified Training Officers.

A-350 & V-355 at the scene of a cardiac call, Jan. 2003.

CPR Class 2-22-1978. Milt McDaniel, Tommy Stoll, Randy Young, David Boyd, Reserve? EMT Nancy Storey instructs.
Mulvane's population is 6,200 (2010 census) and cover about 4 square miles. Mulvane's Sumner County E.M.S. District has a population of about 4,000 and covers 53 square miles.

Fire assisting EMS on a medical.
Mulvane Emergency Services is also under contract to serve an 8 mile stretch of the Kansas Turnpike from milepost 34 (Sedgwick/Sumner County line) to milepost 26 (Belle Plaine Service area).

Mulvane E.M.S. has 3 Type I ambulances and runs a first out "Duty Officer" on all calls. Mulvane Fire Rescue also responds an E.M.T. staffed Rescue Truck on some calls (10-48's, code blue's) and when requested by E.M.S.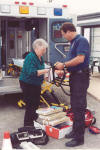 E.M.T. Lowell Ester is shown here at open house Oct. 14, 2000, demostrating the pulse-ox to Margret Larsen, widow of former Director George Larsen.

Eagle Med 4 helicopter stands by at the scene of a 10-48 injury accident near Udall on K-15 highway.
Eagle Med 4 & A-351 at a High School Demonstration, May 02.

Judi Patterson works on the weekly EMS schedule.

Loading a victim of a 10-48 onto Ambulance #12. (L-R) Public Safety Officer/EMT Merle McKee, Pastor Roy EMT, Police Officer Darren Chambers, and Maurice Welch EMT. (1984 era)

George Larsen show off the patient compartment of Ambulance #11 to Anthony Middendorf and another youth.
EMS Crews stand by at a train derailment.

EMT Josh Bowker & A-451 doing firefighter rehab, Aug 2010.
* Photo's by Lonnie Whisler.