Garry's Old Settlers Celebration 2008!
Members prepare for the Parade.
Trucks line up for the Parade.
Fire Pup makes an appearance!
T-406 lets off some steam!
Staff Members standby for action!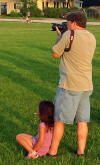 M.E.S. Photographer Garry Brownlee
Garry Brownlee is the Department Photographer and is a member of the Resource Team. Many of the pictures on this web site of current events were taken by him. Pictures used by permission only. See more of his work here on flickr.

Misc. Pictures Page 7
April 2004 School Bus MCI Drill