M.F.R. Trucks
Rescue 407 Pictures

Rescue 407, 1999 Ford F-550 Precision. This truck was the first ever built from fire department specifications. It cost $119,584 in March of 1998. This included almost all new rescue equipment, such as air-bags and "Hurst Jaws of Life".
This truck responds to all 10-48's (MVA's), vehicle fires, and structure fires. It is set up with 180 gallons of water and 20 gallons of AFFF foam. It also carries a full compliment of rescue gear including Jaws, Air Bags, Reciprocating Saw, cribbing, & hand tools. It has a 2000 watt elevating "Stem Light" and can be called out for any night time emergency.
R-407, A-351, & V-355 at 10-48 (MVA), Jan. 02.
Lt. Joe McDaniel with R-407 at smoke in a residence call, Feb. 01.

Chief Judi helps pull hose at a working Structure Fire, Apr. 01. R-407 lights up the scene.
R-407 at training exercises.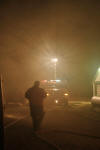 Rescue 407 was retired in June 2014. The Cab and Chassis was re-used to build Brush 407.
The Rescue Body was traded out and re-used by another Kansas department.